Back to Work – Social Distancing Solutions
Fews Industrial have developed some social distancing solutions for organisations preparing to bring their employees back to work. The extra space required to do this safely can be provided by temporary marquee structures designed for the purpose.
We provide ready to use, turnkey solutions which can be built in any size as required and can include showers, hand basins and toilets. Our temporary building are fit for purpose and suitable for use through the winter months. Through the use of flat insulated wall panels without linings, all surfaces are easy to clean to comply with strict Covid-19 guidelines. We can offer a variety of floor coverings such as industrial grade carpets and non-slip vinyl flooring. Our well trained teams can provide a very fast turnaround from initial request through to final build, and we offer advice and support through the whole process.
We are leading providers of temporary buildings. Our professional reputation is built on three key pillars; safe and speedy construction, total reliability regarding on-time delivery, and a laser-focus on customer satisfaction.
Our design and planning process is detailed, meticulous, and uses state of the art design software. The many hours spent are rewarded by seamless delivery and construction phases, ensuring timely completion.
Using only the finest quality stock and latest techniques, our highly skilled teams are constantly seeking to push the boundaries of what is possible in the delivery of temporary buildings.
Our industry accreditations such as MUTA, CHAS and Safe Contractor are all in place, so we meet all the usual regulatory requirements.
Temporary Office Space
If additional temporary office space is required to enable sufficient social distancing we can provide a fully temperature controlled environment with lighting, carpeting, furniture, electricity and water. All this can be secured using lockable doors, windows and alarm systems if needed.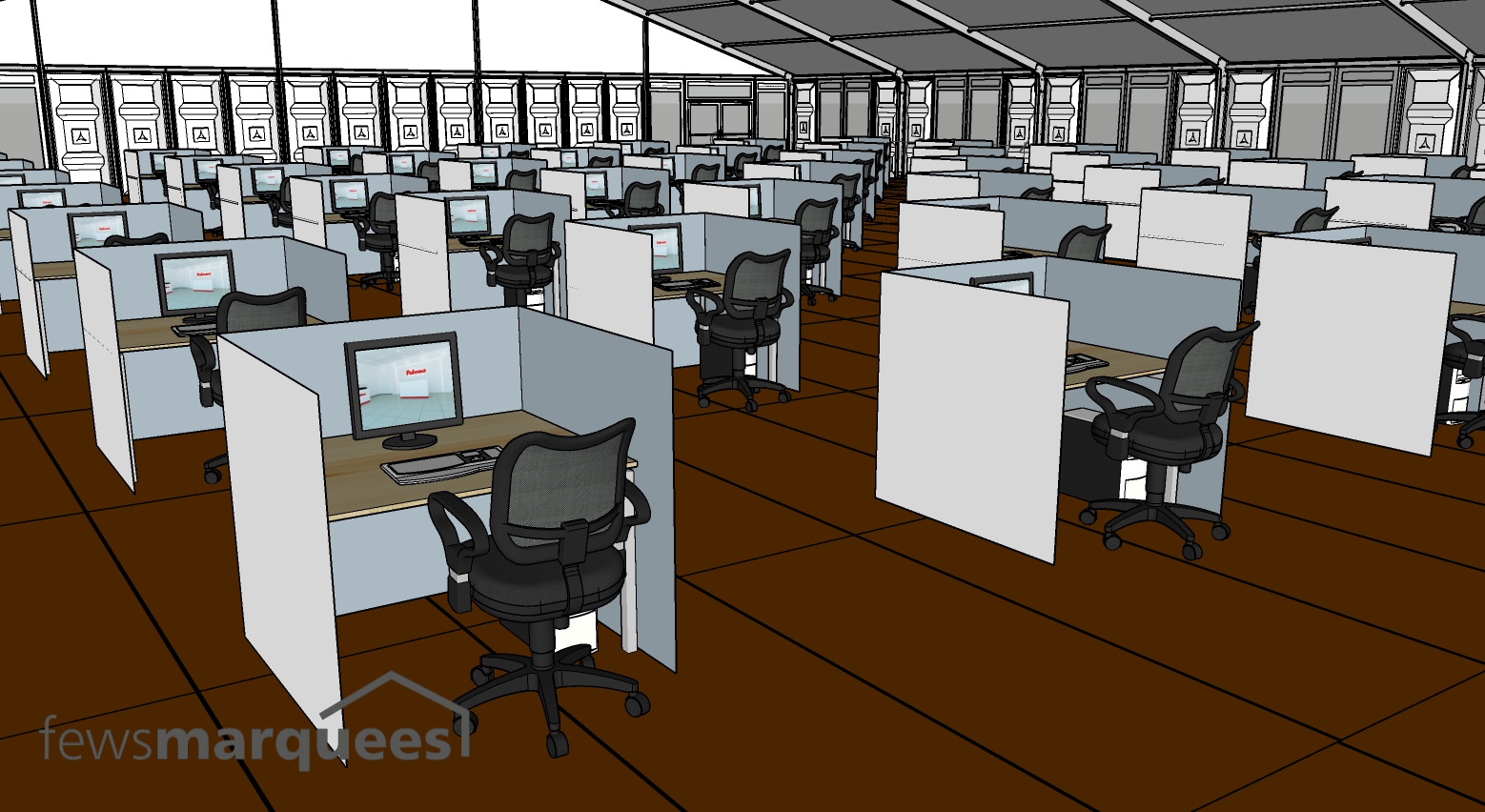 Temporary Canteens
Our temporary marquee structures are ideal to offer expanded canteen areas that may be required under future social distancing rules. We can do a full fit out including catering equipment, furniture, refrigeration, temperature control, lighting and electricity. Everything can be secured using lockable doors, windows and alarm systems if needed.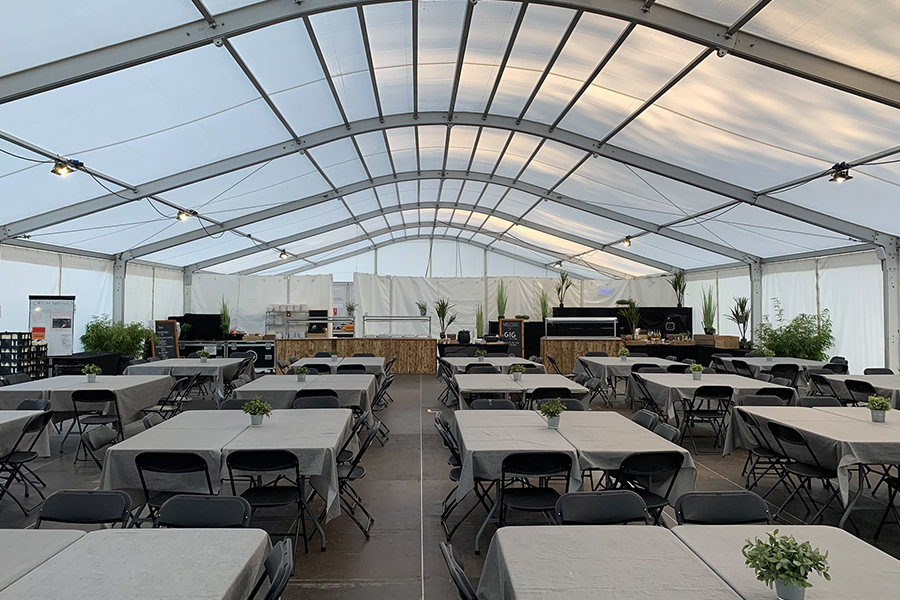 Temporary Staff Rooms & Temporary Lockers
Fully furnished temporary staff rooms with lockers can be provided at short notice ensuring that staff have safe "socially distanced" areas for lunch breaks, rest breaks or preparing for work. These can be be fully temperature controlled, with lighting, water and any facilities that may be required.
Staff Testing Booths
We can provide testing booths where staff can be safely tested using temperature guns on the way into work. This will protect both "tester" and "tested".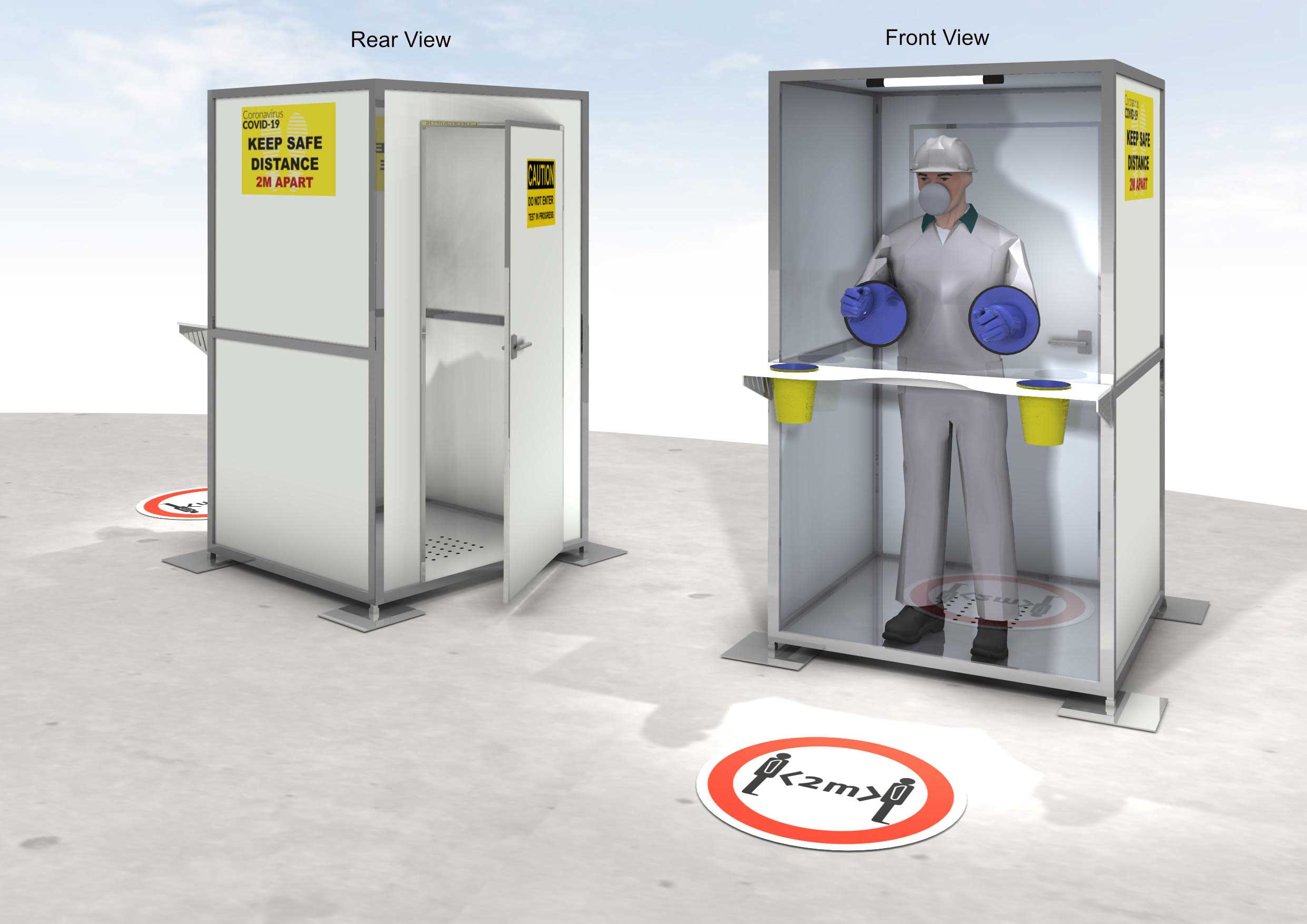 Schoolrooms / Lecture Halls
Where social distancing is required in schools, we can provide purposely designed temporary marquee structures with correctly spaced desks for lessons and examinations. All can be fully temperature controlled, well lit and fully secure.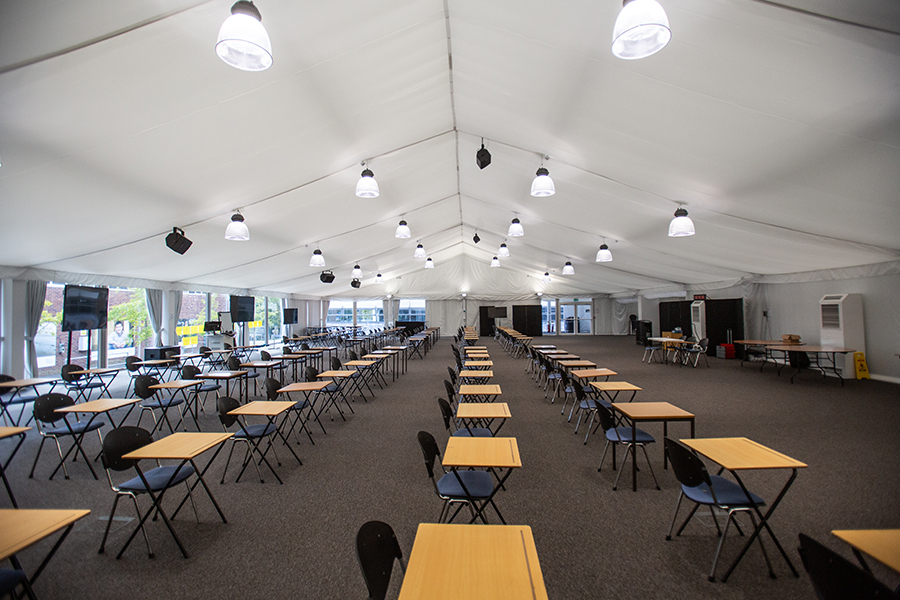 Contact Matt Porter or Barny Jones on 01527 821789 or email info@fewsmarquees.co.uk
For out of hours emergencies call:
Ian Few: 07976 693430
Matt Porter: 07759 444933
Fast, efficient, personal service
We offer a very competitive service and will strive to find the perfect solution for your business with our proactive and personal approach. Each customer request is led from enquiry to build by one of our expertly trained project managers ensuring continuity and a seamless process. Once a project is commissioned, we allocate a single point of contact and responsibility.
Call us and one of our project managers will provide a FREE quote. If a site visit is required, then we are also happy to do this free of charge. If your requirement is very urgent, we are able to install some structures within a week.  Check with us and we'll advise accordingly.
High Quality
Constructed from anodised aluminium and other high quality materials, our temporary structures are resistant to wind, snow and rain, and are designed to last many years in such conditions. We use specialist enhanced PVC, insulated sandwich slabs, aluminium profiles and fire galvanised steel connection and assembly components to ensure we provide safe, durable, resistant structures.
Years of industry experience
Fews Industrial has over 20 years of experience in the temporary structure business, and provides the highest quality products and exceptional service.
Headed up by Ian Few, Managing Director, the permanent team of office staff and site crew all enjoy in-depth knowledge and hands-on experience of the business.