Solutions for Schools, Colleges, Universities
Fews Industrial have developed some social distancing solutions for schools, colleges and universities preparing re-introduce their students and teaching staff back to the classroom. The extra space required to do this safely can be provided by temporary marquee structures designed for the purpose.
We provide ready to use, turnkey solutions which can be built in any size as required and can include showers, hand basins and toilets. Our temporary buildings are fit for purpose and suitable for use through the winter months. Through the use of flat insulated wall panels without linings, all surfaces, including floors, are easy to clean to comply with strict Covid-19 guidelines.
We can offer a variety of floor coverings such as industrial grade carpets and non-slip vinyl flooring. Our well trained teams can provide a very fast turnaround from initial request through to final build, and we offer advice and support through the whole process.
We are leading providers of temporary buildings. Our professional reputation is built on three key pillars; safe and speedy construction, total reliability regarding on-time delivery, and a laser-focus on customer satisfaction.
Our design and planning process is detailed, meticulous, and uses state of the art design software. The many hours spent are rewarded by seamless delivery and construction phases, ensuring timely completion.
Using only the finest quality stock and latest techniques, our highly skilled teams are constantly seeking to push the boundaries of what is possible in the delivery of temporary buildings.
Our accreditations such as ISO 9001, ISO14001, CHAS and Safe Contractor are all in place, so we meet regulatory requirements.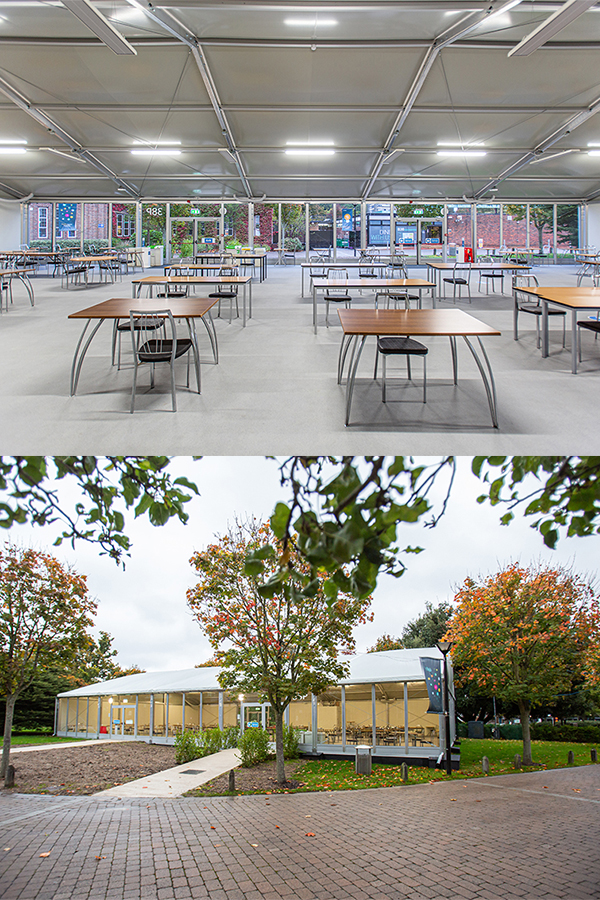 Temporary Canteens
Fews have a turnkey solution for universities looking for additional canteen and social space. We can provide canteens in a range of sizes up to 25m wide, and are able to to build in confined areas.
Structures are available for long term hire or purchase and can include the following options:
· Insulated roof and wall panels
· Deck level cassette floor
· Commercial grade non-slip vinyl floor
· Radiant cassette heaters
· Lighting and power distribution
· Lockable doors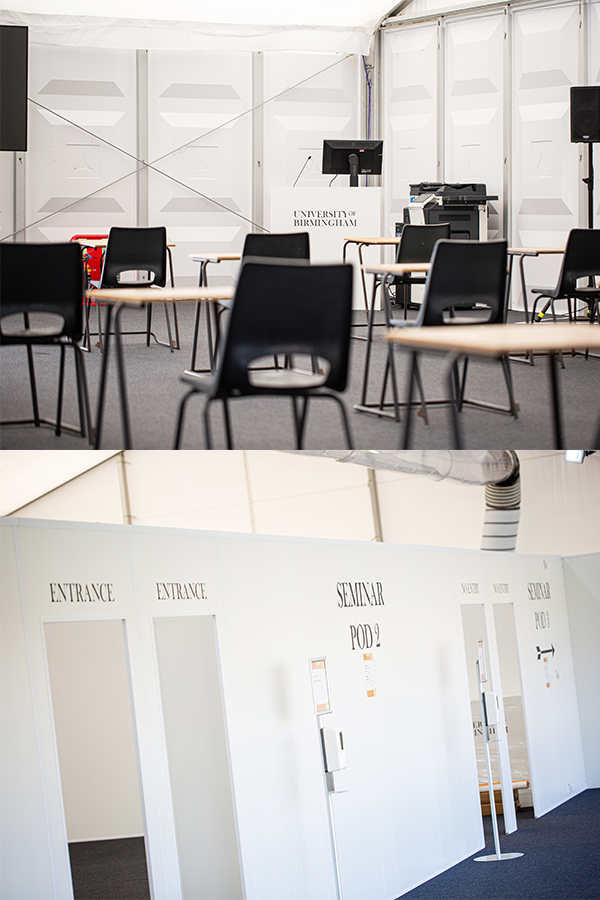 Schoolrooms / Lecture Halls
Where social distancing is required in schools, we can provide purposely designed temporary buildings with correctly spaced desks for lessons and examinations. Each classroom can be fully temperature controlled, well lit and fully secure.
We are able to build in confined areas, and are happy to make a free site visit to make a complete survey.