Solutions for the Office
Fews Industrial have developed some social distancing solutions for companies preparing to bring their employees back to the office. The extra space required to do this safely can be provided by temporary buildings designed for the purpose.
We provide ready to use, turnkey solutions which can be built in any size as required and can include showers, hand basins and toilets. Our temporary buildings are fit for purpose and suitable for use through the winter months.
Through the use of flat insulated wall panels without linings, all surfaces are easy to clean to comply with strict Covid-19 guidelines. We can offer a variety of floor coverings such as industrial grade carpets and non-slip vinyl flooring. Our well trained teams can provide a very fast turnaround from initial request through to final build, and we offer advice and support through the whole process.
We are leading providers of temporary buildings. Our professional reputation is built on three key pillars; safe and speedy construction, total reliability regarding on-time delivery, and a laser-focus on customer satisfaction.
Our design and planning process is detailed, meticulous, and uses state of the art design software. The many hours spent are rewarded by seamless delivery and construction phases, ensuring timely completion.
Using only the finest quality stock and latest techniques, our highly skilled teams are constantly seeking to push the boundaries of what is possible in the delivery of temporary buildings.
Our industry accreditations such as MUTA, CHAS and Safe Contractor are all in place, so we meet all the usual regulatory requirements.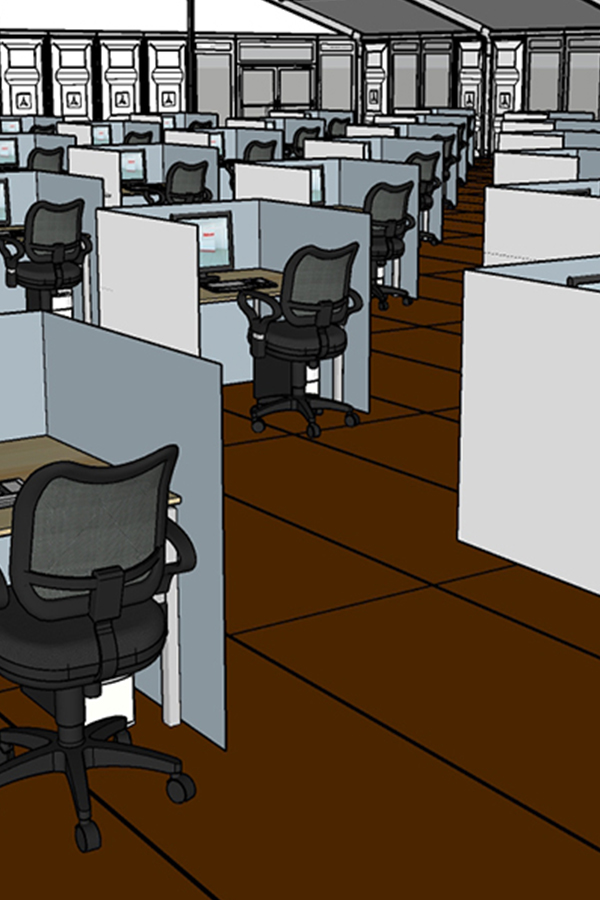 Temporary Office Space
If additional temporary office space is required to enable sufficient social distancing we can provide a fully temperature controlled environment with lighting, carpeting, furniture, electricity and water. All this can be secured using lockable doors, windows and alarm systems if needed.
Temporary Canteens
Our temporary buildings are ideal to offer expanded canteen areas that may be required under future social distancing rules. We can do a full fit out including catering equipment, furniture, refrigeration, temperature control, lighting and electricity. Everything can be secured using lockable doors, windows and alarm systems if needed.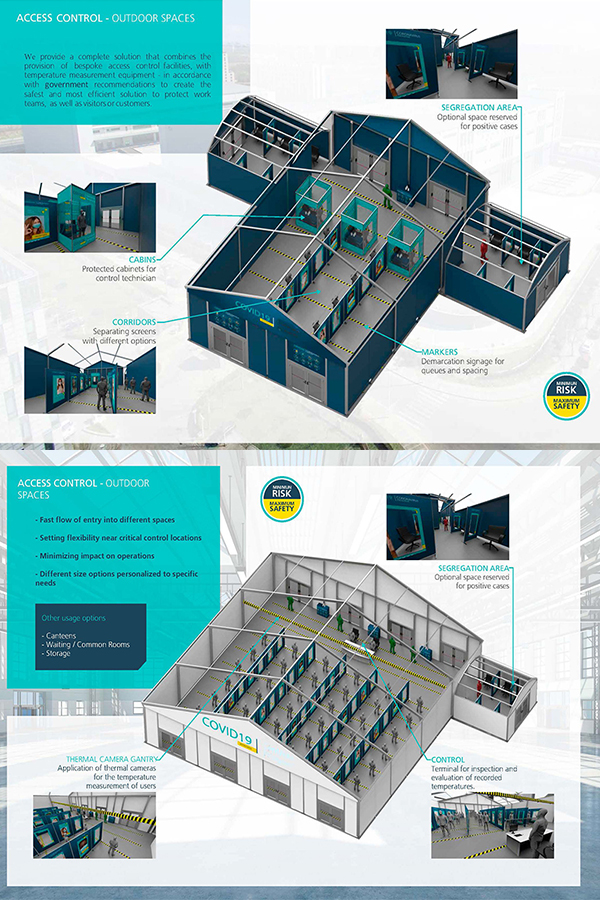 Access Control
We provide a complete solution that combines the provision of bespoke access control facilities, with temperature measurement equipment – in accordance with government recommendations to create the safest and most efficient solution to protect work teams, as well as visitors or customers.
Fast flow of entry into different spaces
Setting flexibility near critical control locations
Minimizing impact on operations
Different size options personalized to specific needs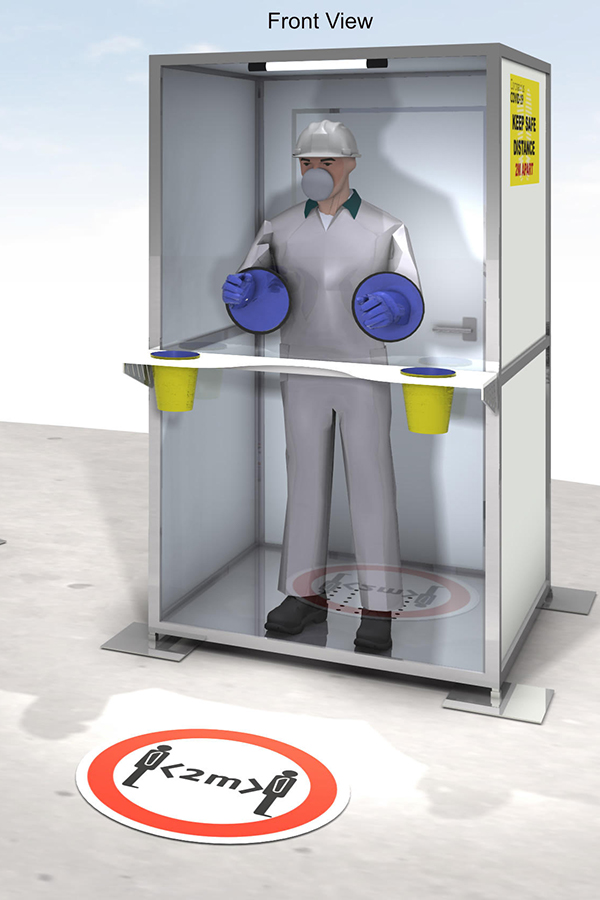 Employee Testing Booths
We can provide testing booths where employees  can be safely tested using temperature guns on the way into offices. This will protect both "tester" and "tested".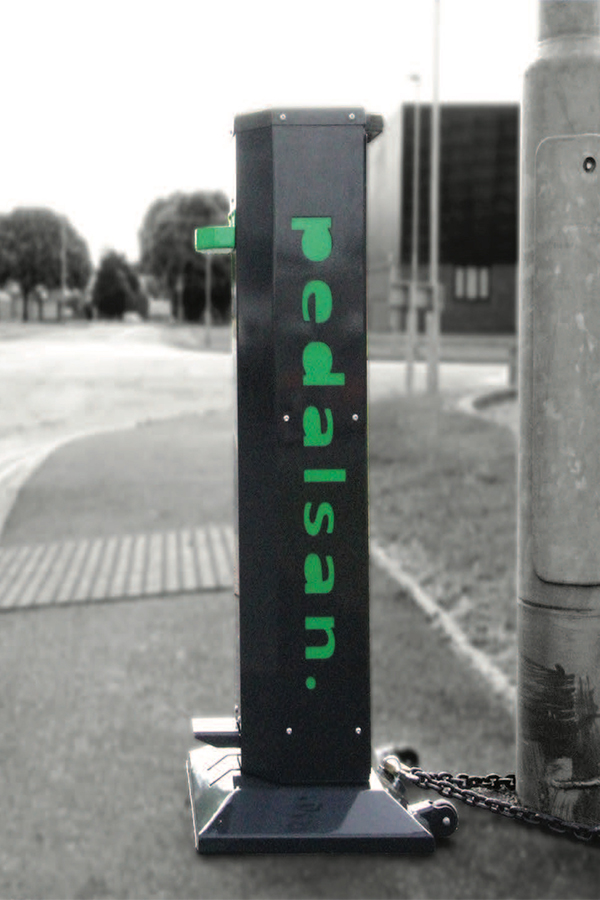 Pedalsan Hands-Free Hand Sanitiser Station
£395 per unit (plus VAT)
Contact info@temporarystructures.co.uk
Built for use in warehouse, construction sites, and offices, pedalsan has been developed with strength and durability as a top priority.
EASILY TRANSPORTABLE
The pedalsan is fitted with 2 heavy duty castors and a top-mounted pull handle to make it easily transportable to other locations. The pull handle also makes handling the unit easy when loading into a van, etc.
ANCHORING EYE HOOK
Includes a secure eye hook on base for easy anchoring to a floor, post or other fixture using a chain and padlock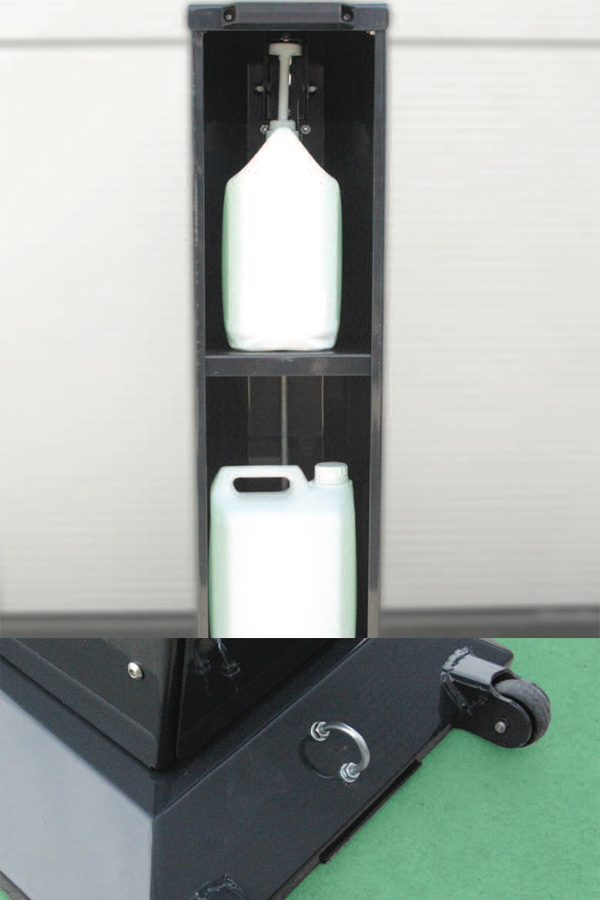 5 LITRE CAPACITY
Will fit all standard sized 5 litre cartons and with an additional 5 litre storage space underneath, there is adequate sanitiser close at hand to ensure your pedalsan is not frequently 'running on empty'.
HEAVY DUTY – EASY PRESS PEDAL
A robust pedal mechanism ensures pedalsan can withstand the heavy usage from construction site footwear. Minimal foot-pressure is required which maximises the longevity of the pedal mechanism and ensures all users can effortlessly extract sanitiser.
HEAVY DUTY CONSTRUCTION
High quality powder-coat finish, easy clean and resistant to the elements. Rubber floor protectors protect the metal base from direct contact with the floor, also minimising any movement of the pedalsan during use.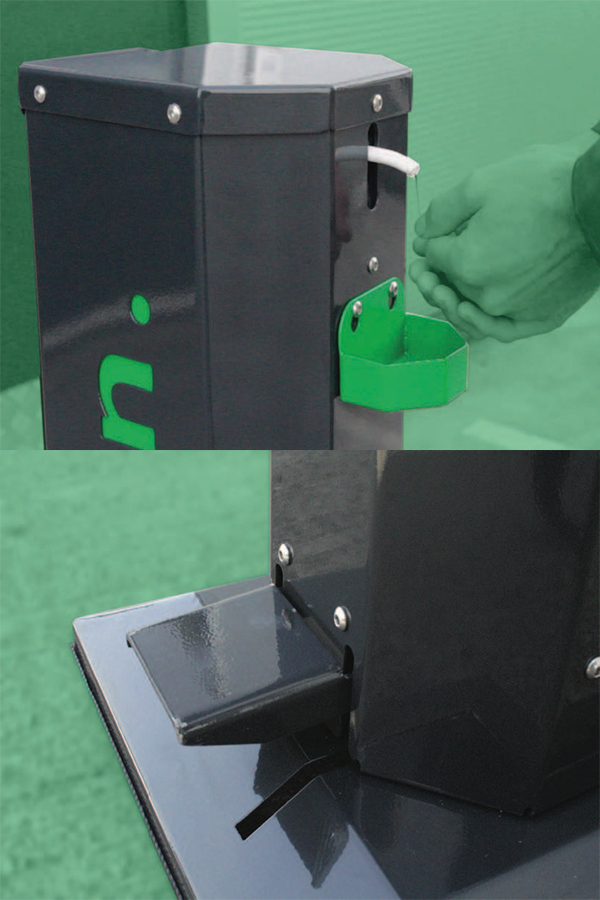 TECHNICAL SPECIFICATION
Total Height – 1025mm
Base Width – 400mm
Base Depth – 470mm
Empty Weight – 24.2kg
Capacity – 5 litre (will fit most standard shape cartons) with additional 5 litre container storage underneath.
For best application, pedalsan is recommended for use with an alcohol gel in the standard 5L container (see picture).
5 litre hand sanitiser gel containers not included. Please enquire separately for pricing and availability.
Includes 1no dispenser pump with each pedalsan unit.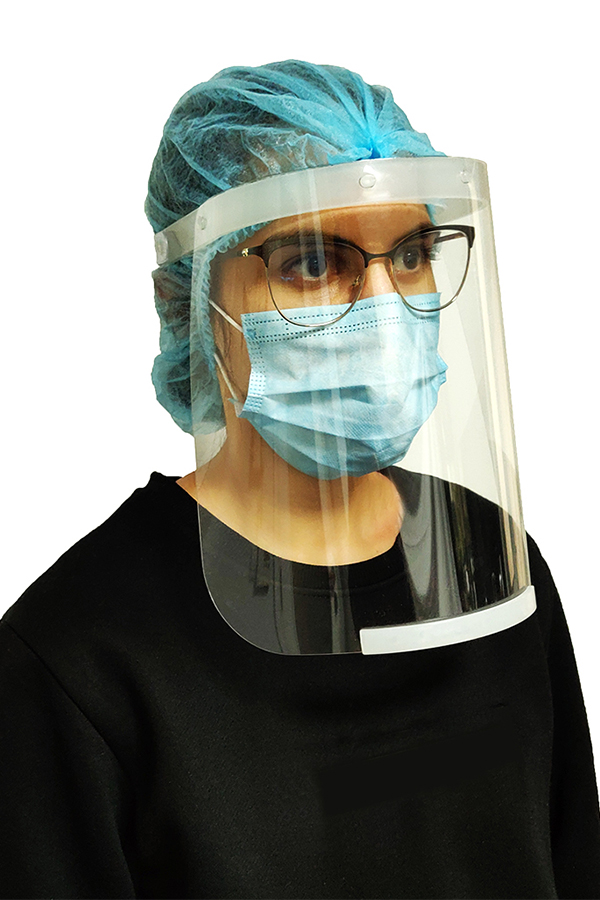 Protective Face Visor
This protective face visor provides protection against solid and liquid particles. Made of polycarbonate, this visor can be sterilized and is therefore completely reusable.
Anti-glare and anti-fog polycarbonate
Can be sterilized and is reusable
Measures: 30cm (width) x 24cm (height) – covers the entire face
Designed for simultaneous use with mask and goggles
Flexible and adjustable support according to user preference
Includes assembly and cleaning instructions
£7.00 each (plus VAT in quantities of 100 pcs)
£5.50 each (plus VAT in quantities of 1200 pcs)
Contact info@temporarystructures.co.uk