Temporary Storage Buildings – How Can They Benefit My Business?
Businesses require temporary storage buildings for a variety of reasons. Perhaps additional inventory is required for a product launch or a seasonal marketing campaign. Maybe your forecasts are wrong and you are just temporarily overstocked, or perhaps our political masters throw a Brexit-shaped spanner in the works to disrupt the supply chain. In the worst scenario, regular storage is out of action through damage and a temporary replacement is urgently required.
Whatever your reason for needing temporary storage, there are options available. The main two are renting off-site space in an existing storage facility or hiring a temporary storage building.
Offsite storage is an immediate solution, but the impact on logistics processes and staff, allied with potential concerns around security and access, can make this option unappealing.
The better choice may be a temporary storage building, temporary storage marquee or temporary storage tent depending on the terminology you use. This approach comes with some clear advantages.
Temporary storage buildings – the main advantages
The obvious advantage of a temporary storage building is location. If you have the space, a temporary storage building can be deployed directly on your premises, close to your existing facility. Logistics can be planned at a distance, but if require your inventory on your premises, then moving if only temporarily, can be enormously disruptive to your operation.
The second advantage of temporary storage buildings is specification. They can be built to your exact specification based on your requirements and available space and access doors of any type can be positioned where you need them. Furthermore, the level of security and insulation can be specified to meet your needs.
The third advantage of temporary storage buildings is flexibility. A temporary storage structure can be hired over any period, from short-term hire to many years and can be renegotiated at any time. You may also have the option to buy the structure, should the business case be favourable.
Finally, thanks to the construction method being inherited from marquees and tents, a temporary storage building can be relocated to another site if needed.
Fews offer full turkey solutions and if you choose Fews as your temporary storage building supplier, we allocate project managers who will visit your site to make sure the location is suitable and determine the right specification for your needs. Once complete, we hand over the building alongside a management plan, this ensures your temporary storage building remains fit for purpose for as long as you need it.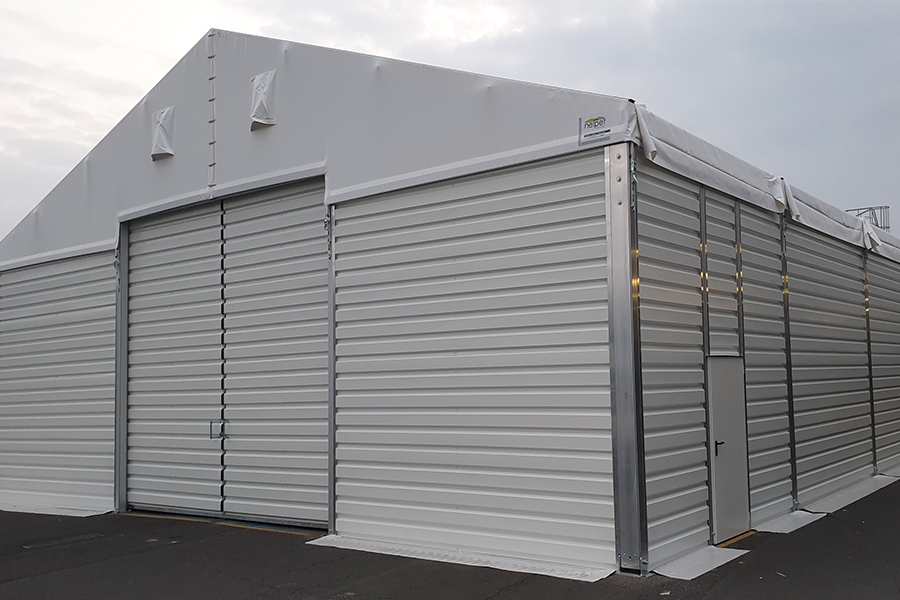 Protecting your stock in a temporary storage building
The options available when specifying a temporary storage building, ensure your inventory is properly protected. If security is a concern, the walls, doors and windows can be specced to the highest standard. The standard PVC walls can be replaced with steel sheeting, alongside fully alarmed roller shutter doors and lockable personnel doors. If specced correctly, a temporary storage building can feature the same level of security as a permanent structure.
If storing temperature-sensitive goods,  Insulated sandwich panels can be installed to keep your inventory safe. These panels are made from robust steel sheeting and filled with polyurethane foam. The thickness of the panels can be specced from 40mm to 100mm, depending on the level of insulation required.
To boost insulation, our temporary storage buildings can feature a roof system which is designed to eliminate condensation internally while enhancing thermal insulation.
We also offer a unique thermo twin-skin PVC air-filled roof, which uses an electric pump system to maintain a constant inflation. This is ideal when storing goods which are vulnerable to condensation such as cardboard or paper.
Other options include guttering and downpipes, various flooring types, lighting and HVAC (heating, ventilation and cooling) systems.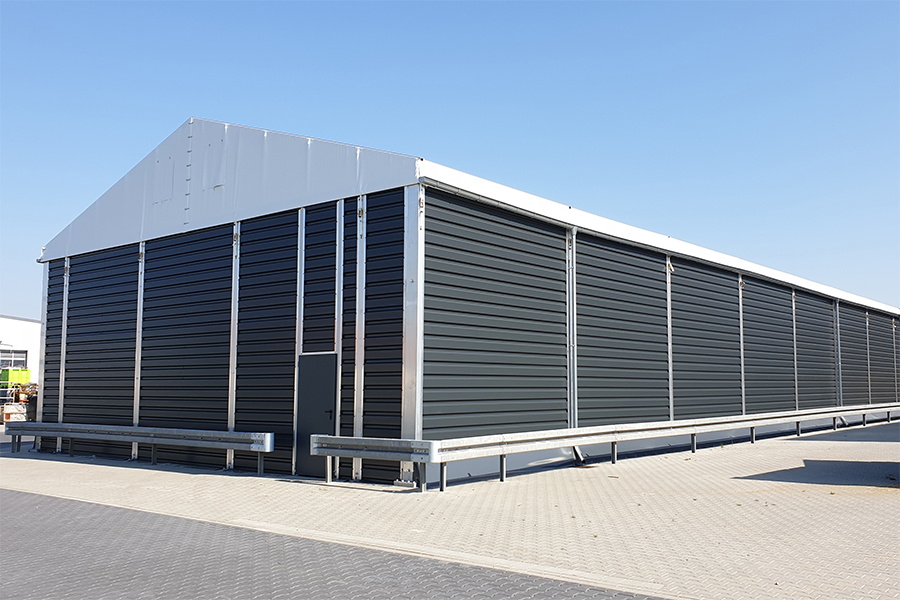 Temporary storage building planning permission
If your temporary storage building is going to be in-situ for more than 28 days, then the likelihood is that you'll need planning permission. Fews can provide support to get over this potentially tricky administrative hurdle. More information here.
5 reasons to hire a Fews temporary storage building
• Can be sited wherever you choose
• Full control of size (length, width, height)
• Many options available (insulation, security, doors, lighting)
• Can be relocated
• Flexible hire or buy options
In summary, a temporary storage building is a perfect solution to cope with overstock, additional seasonal storage and emergency cover due to damage. Once properly specified, there is no significant different between a temporary and permanent solution. The added benefit is that a temporary building can relocated or just removed when no longer needed.
If you would like to find out more about our temporary storage buildings for hire or purchase, please get in touch.