Emergency Cover & Emergency Shelters
Extensions to Hospitals and Medical Centres
Due to the demand for space forced by Covid-19 restrictions, we have been erecting extensions to existing medical centres. Our emergency medical centre extensions are designed to be attached to existing buildings providing weatherproof additional space.
Options
Heating and air conditioning (HVAC)
Commercial grade vinyl flooring
Power supply and distribution
Toilet facilities
Exterior and interior lighting
Insulated walls and roofs
Alarm systems
– Find a case study for a Medical Extension Marquee here –
Waiting Areas and Receptions
The need for segregated reception rooms and post vaccination waiting rooms for allergic reaction monitoring and social distancing is clear, and we can provide these facilities very quickly, even connecting them to existing buildings
Covered Walkways for Emergency Temporary Buildings
We can build temporary covered walkways to connect any emergency temporary buildings and structures to protect everyone from the elements and for social distancing.
Mass Vaccination Structures
*Stock available for immediate installation*
Our emergency temporary buildings and marquees make ideal mass vaccination structures. The current situation regarding vaccination means there is a need for emergency temporary buildings and marquees of all sizes to accommodate the numbers for social distancing and other logistical issues involved. We can offer emergency temporary buildings with the following features:
Soft sided structures for versatility in confined areas
Hard walls for ease of cleaning
Commercial grade vinyl floor covering
Fully lockable secure personnel doors
Overhead ducting heating systems
Full lighting and power distribution systems
Can be super-insulated to maintain very low temperatures for storage
Can be built on tarmac, concrete or grass
These buildings can be installed quickly to meet an urgent requirement, and we are able to build in areas with restricted space.  We have developed COVID-safe procedures for the rigging teams, including clear separation processes and welfare vans.
– Find a case study for a vaccination centre here –
School Testing Structures
Our emergency temporary buildings make perfect school testing structures. Schools are being required to provide facilities for Covid-19 testing at very short notice. We can provide marquee structures that are ideal for the task and can include:
Hard walls
Soft sided marquees and tents
Commercial grade vinyl flooring
Heating and air conditioning (HVAC) for efficient air circulation
Exterior and interior lighting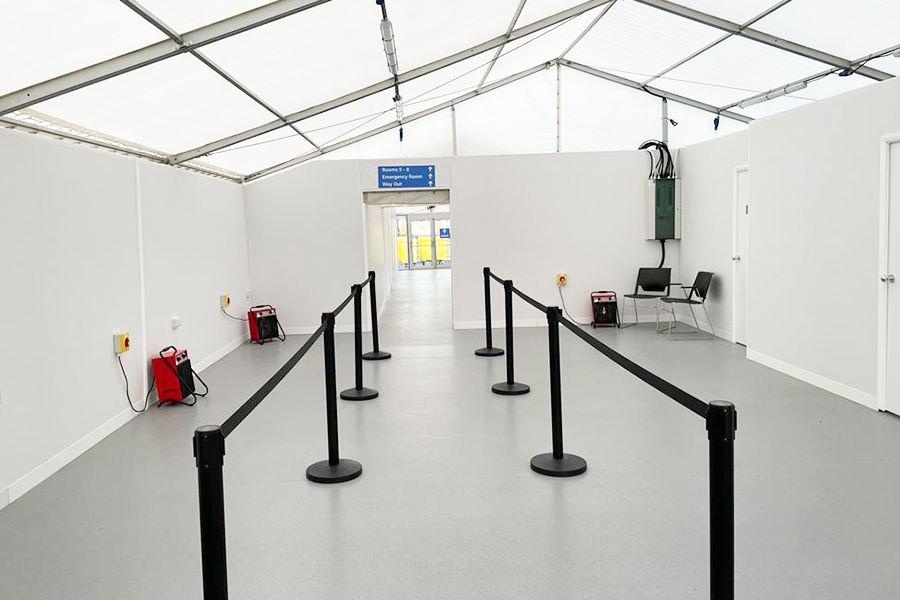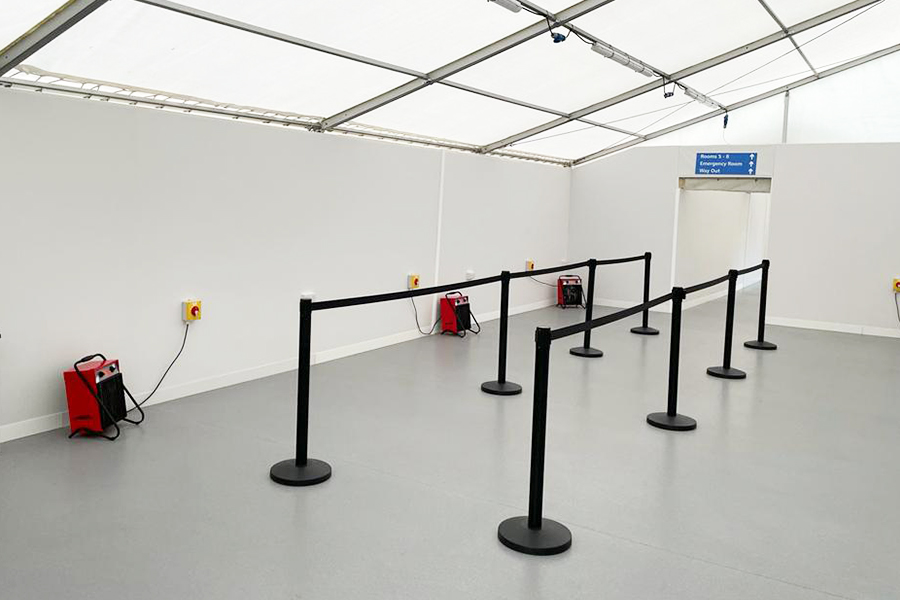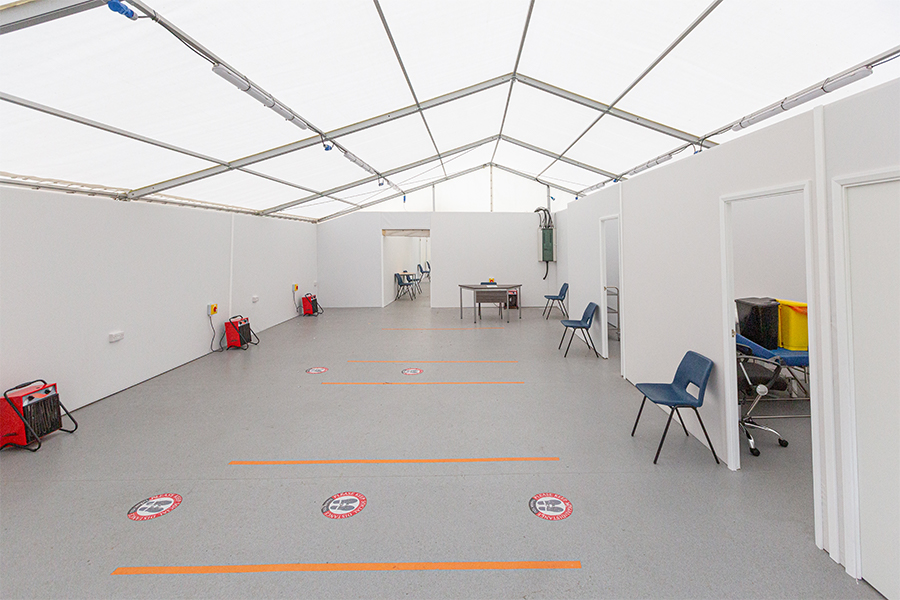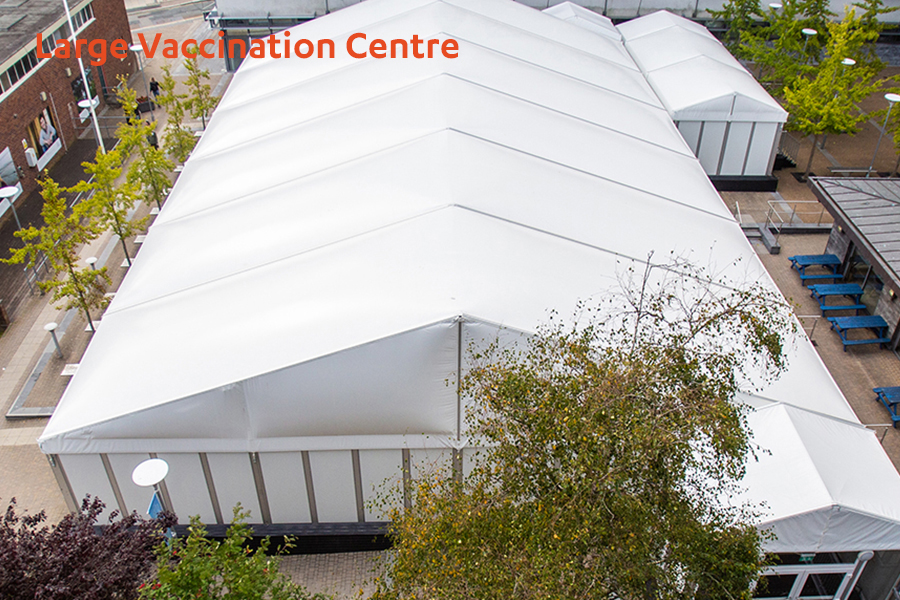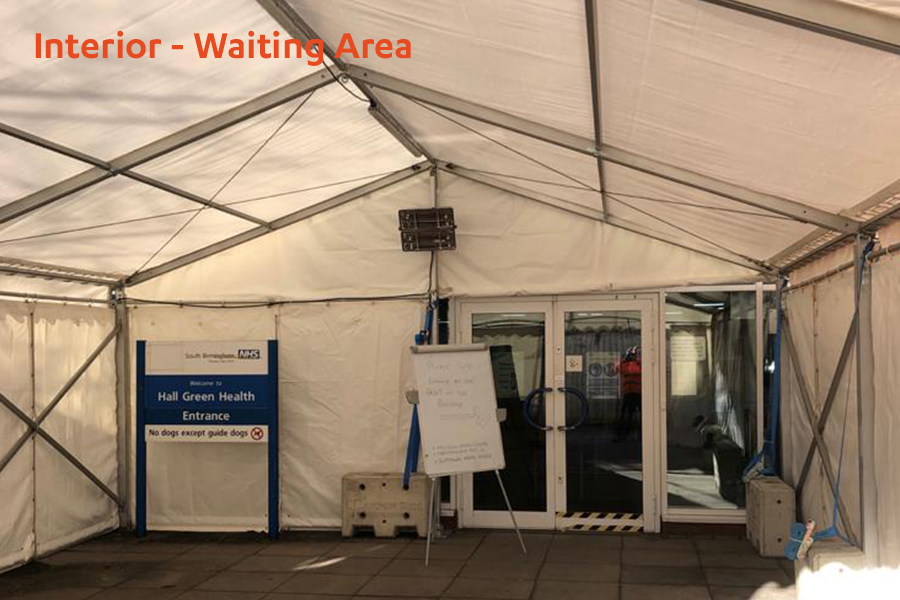 Temporary Drive Through and Walk Through Testing Structures
We can provide drive through emergency testing structures for mass vaccination sites, which can be a simple canopy tent or full turnkey solutions, including traffic barriers, security fencing, staff welfare units PPE storage and secure areas for hazardous clinical waste. If cold storage is required, we can supply power and refrigeration units. Should Covid-19 vaccination take place during winter months, then staff areas can be insulated, heated and protected from excessive wind-chill. We can provide also drive through testing marquees for blood testing, vaccinations as well as medical health checks so patients can safely stay in their cars.
In addition we can supply emergency walk-through testing structures with social distancing dividers, heating and lighting.
Our emergency temporary buildings and structures are available to buy or hire on a short or long term basis. This service is available at very short notice.
The examples below show drive through emergency structures we provided to the NHS Nightingale Hospital Birmingham at the NEC.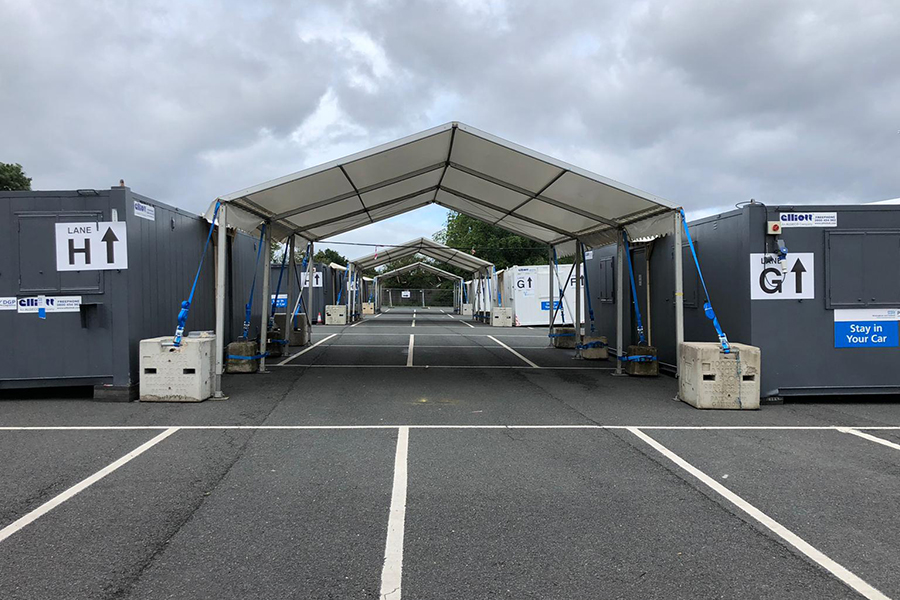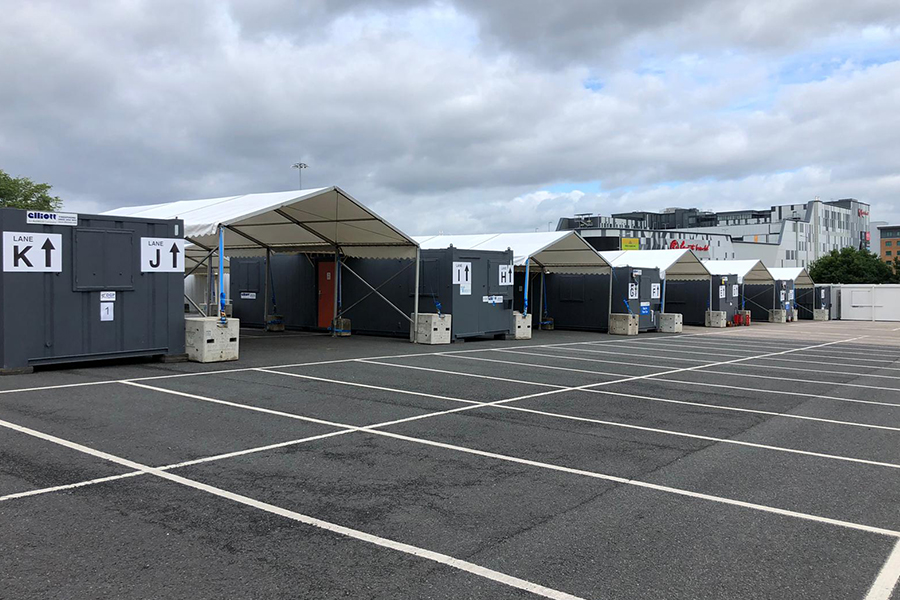 Why Choose Fews as your supplier for emergency temporary buildings?
Unparalleled levels of service
We allocate dedicated project managers to each enquiry, ensuring continuity in communication and information. They follow through from initial enquiry to final build, including being on-site to make sure that your requirements are delivered precisely and on time.
Extensive experience in delivering emergency temporary buildings and structures
For over 20 years we have been providing structures to the public and private sectors. We have a deep understanding of the market sectors we operate in, saving time and money for our clients.
Highest quality structures
Constructed from anodised aluminium and other high quality materials, our temporary buildings are resistant to wind, snow and rain, and are designed to last many years in such conditions. We use specialist enhanced PVC, insulated sandwich slabs, aluminium profiles and fire galvanised steel connection and assembly components to ensure we provide safe, durable, resistant structures.
Accreditations
Maintaining high professional standards is fundamental to the Fews approach. We have many health and safety, process and environmental accreditations including CHAS, SafeContractor, Constructionline Silver, ISO9001 and ISO14001.
Contact Matt Porter or Barny Jones on 01527 821789
or email info@fewsmarquees.co.uk
For out of hours emergencies call:
Ian Few 07976 693430
Matt Porter 07759 444933
Our emergency structures have the following benefits:
Stored in the UK for rapid installation
Flexible design in width length and height
Pressure tested environments
Insulated wall panelling and secure access doors
Full fit out, including the choice of non-slip floor coverings, water supply, electricity, lighting, toilets, HVAC (heating and air conditioning), Alarm Systems and CCTV
Sanitation Facilities
Emergency Temporary Buildings – Medical Centres – Mass Vaccination Marquees – Drive-in Testing Tents – Social Distancing – Receptions – Waiting Areas – Covered Walkways – Catering Facilities – Mortuaries – Hospital Extensions