Storage Tent Hire / Buy – Ultimate Buyers Guide
If you're in the market to rent or buy a temporary storage tent. Our ultimate buyers guide will help you choose the right storage tent for your needs.
You may want the storage tent for long term storage of inventory, or as a short-term extension to your existing storage space, but when you start to search for storage tents online, you will quickly realise that suppliers use an array of names to describe what is essentially the same product.
What's in a name?
Warehouse marquee, temporary structure, warehouse tent, industrial tent, commercial tent, industrial marquee – all of these are used by suppliers to describe a storage tent. The different terminology comes from the way in which modern aluminium framed temporary buildings have developed from earlier marquee / tent type structures. It is also likely that some materials and/or processes remain very similar.
At Fews we prefer to use the phrase "temporary buildings" because we believe it closely reflects the robust nature of the product.
Even though they may share a common heritage, the marquee you see gracing a grand lawn for a wedding is very different from the type of structures that are used for storing perishable goods at low temperatures.
In reality, a storage tent can be both temporary and a building. It may also be made of materials or using processes that would normally be associated with marquees and tents.
The real difference lies in the specification and the level of planned management required to ensure that the structure remains fit for purpose throughout its life.
Things to consider before ordering your storage tent
Before you order a storage tent, it's best to start by answering a few simple questions:
How long do you need the storage tent for?
What size should the storage tent be? (L x W x H)
How secure does it need to be?
Do the contents require insulation?
Will condensation be a problem?
What type of ground will the storage tent be built on?
Where will it be located?
Have you a budget in mind?
While most of these questions are straightforward, others require careful consideration.
The length of time you will need your storage tent for, may influence whether you decide to hire or buy. At the very least, it will affect the specification. For example; a storage tent hired between May and September will not need to meet snow-loading requirements.
Insulation, in some cases, can be crucial and will determine whether your storage tent requires soft PVC walls or insulated panels and roof types.
Storage tent security is a key factor. Soft PVC walls might not be appropriate for high value contents, while hard walls would offer greater security. At Fews, we can also supply secure sliding and roller shutter doors and can even fit alarm systems if needed (personnel doors included).
When it comes to storage tents, condensation can be a serious problem. Cardboard packaging is particularly vulnerable, so a thermo twin-skin PVC air-filled roof would be advisable. This helps to eliminate condensation while offering additional insulation.
Concrete pads are the ideal surface for storage tents, but we are happy to advise on alternatives if a concrete base isn't possible.
Location is crucial and can have a significant impact on the specification of your storage tent. For example, if your tent is to sit within a secure compound, additional security measures might not be necessary. The surrounding terrain may also affect the structure, so the impact of wind and weather should also be considered.
At Fews, we offer free site visits to help us gain a better understanding of the location and the challenges it might present. This means we can offer the best possible advice and support.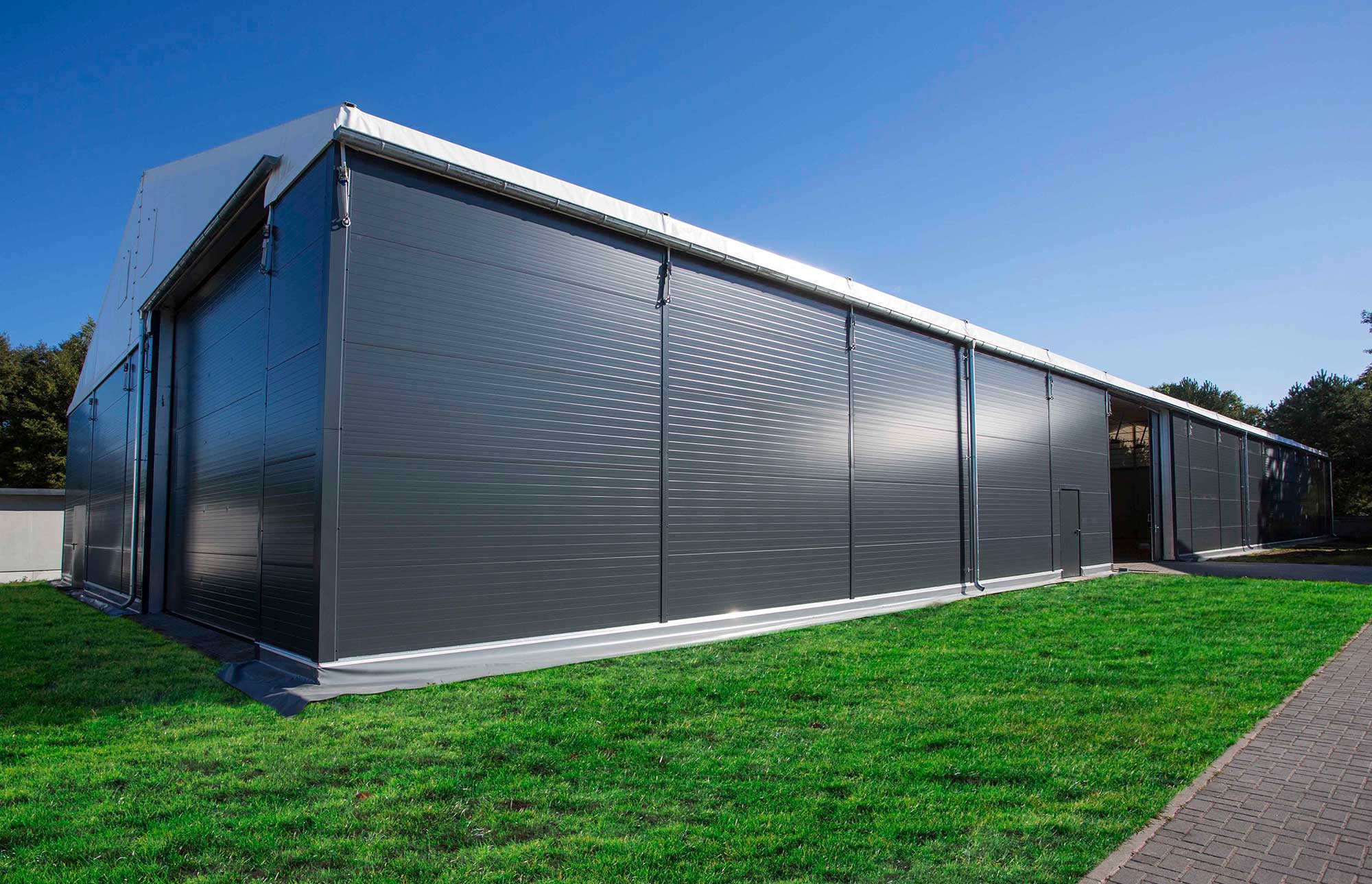 5 top tips for ordering your storage tent
To get the best results, deal with a specialist. Storage tent specialists will clearly understand the issues that you face, offer the best solutions and provide a detailed management plan, This will help to ensure a trouble free experience.
Hire periods that exceed 28 days will more than likely require planning permission. At Fews, we offer a bespoke service for such eventualities.
Consider whether your storage tent will need to be moved in the future. Let your supplier know – it may save you money in the long run.
Check all available hire or finance options to ensure they work for your situation.
Be precise in what you need. This is especially true for long-term hire over many years. If you choose Fews at your supplier, we will work with you to make sure that everything is scrutinised in detail before we embark on the project. This meticulous approach can save a lot of headaches down the road.
In essence, to ensure that your storage tent surpasses your expectations, do your research and choose your provider carefully.
We understand that a storage tent is a considerable investment for any business. To make sure that you make the most out of your investment, we combine our extensive knowledge and years of industry experience to deliver the right advice and support from concept to completion.
If you would like to discuss your next project, we would love to hear from you.
Call now on: +44 (0)1527 821789 or email info@temporarystructures.co.uk
If you would like request a quote, click here.