Temporary Commercial Storage Buildings for Ultimate Flexibility
How commercial storage buildings can benefit your business
When your business requires temporary commercial storage buildings or warehouse facilities, it is almost always safer and more practical to have that storage located at your existing site, in close proximity to the rest of your operation.
So, why should you consider a commercial storage building instead of renting off-site storage? While opting for off-site industrial storage may be quicker in the short term, it is likely to present more headaches in the long-term with regards to security, access, size and the impracticality of have having your inventory at a location remote from the business.
Read more about temporary warehousing
Options for commercial temporary buildings
Fews can supply a wide range of commercial storage buildings. One of the key selling points of our storage buildings would be size. Any size can be specified, with clear-span options of over 40 metres wide, eave heights up to 8 metres high and lengths almost unlimited in 5 metre bays. Additionally, while many industrial marquees are PVC sided, our storage buildings can be fitted with steel walls offering greater levels of security.
Accessories for commercial temporary buildings
If required, sliding doors can be fitted for access or roller shutter doors which can be manually operated, powered, high speed or even automatic. Personnel doors can also be fitted, options include single or double doors, emergency exit bars and fully lockable for security.
If your inventory is temperature or water sensitive, we offer multiple levels of insulation and inflatable thermo roofs which eliminate condensation as well as their insulation properties.
A full range of accessories can be found here
Flexibility
Should you decide to move your storage or even the entire business elsewhere, then our commercial temporary buildings can be dismantled and relocated at any time.
If your commercial temporary building is going to be in place for over 28 days, it will likely need planning permission. Don't be put off by this, Fews can help you every step of the way – see our article here.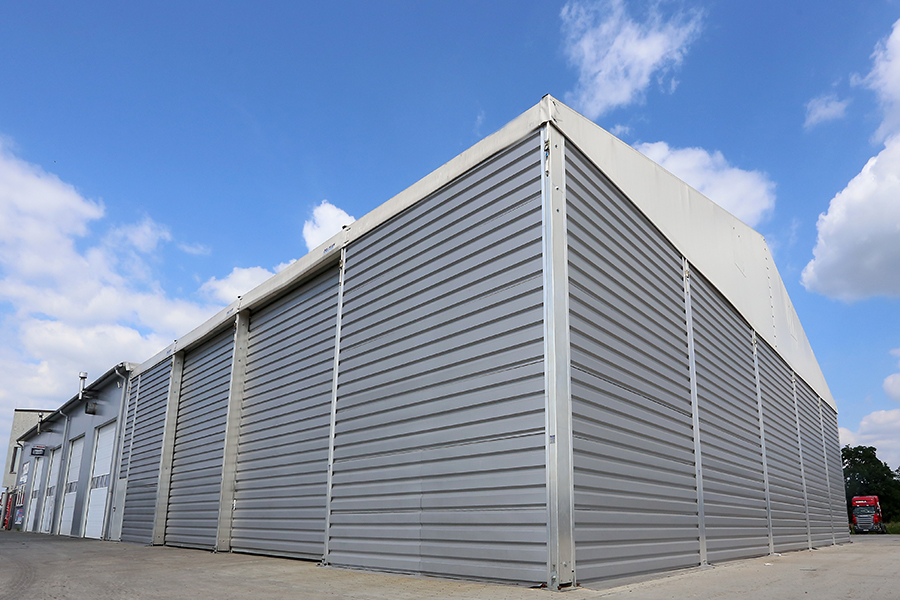 Our commercial storage buildings are available to hire or buy
You have the choice to hire or even buy your temporary storage building. Flexible financing options are available. You can hire over almost any period or choose to buy outright. The option to buy will still be available at any time throughout the hire period and may be more cost effective in the long run, bearing in mind that our structures are built to last many years with the right specification and management.
Find out more about hire or buy here
5 key reasons to hire a commercial temporary building
Can be built anywhere.
Fast installation.
Tailored to your specification.
Hire or buy options.
Can be dismantled and relocated.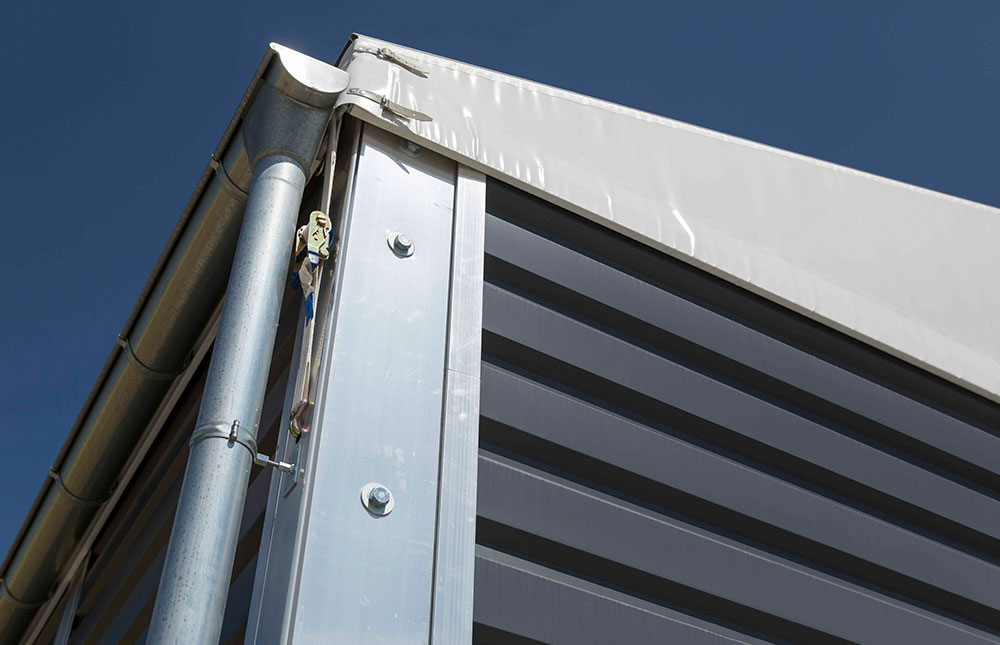 Why hire or buy a Fews commercial storage building?
Fast and Easy to Install
Our project managers provide a fast, hassle free service, ensuring you get the temporary building you need at a cost that your business will appreciate. Available to hire or buy, we can assemble a 1000sqm capacity building within 24hrs.  As a result you will get your temporary structures when you need them most.
Flexible and Affordable
Our modular designs allow you to easily obtain the desired size and volume of building. We can then help you select from the variety of options to ensure fitness for purpose. Our competitive pricing and flexible rolling contracts for hire, alongside reasonable payment plans for buying our structures, means we can always find an affordable option for you.
High Quality
Constructed from high grade aluminium and other high quality materials, our temporary buildings are resistant to wind, snow and rain, and are designed to last many years in such conditions. We use fire retardant, durable PVC for the roofs and can fit a variety of wall and roof styles whether you need additional security or enhanced insulation.
Short or Long Term Hire
Fews Temporary Buildings are experts in the temporary buildings industry, and we offer full turnkey solutions for a variety of applications. Whether for temporary warehouse, disaster recovery or car showroom we can provide the temporary structure you need. We offer our structures for a few weeks up to many years on flexible rolling contracts to suit your needs.