Movie Studios, Television Studios & Location Support

Fews now have developed a fantastic new website to showcase our film and tv support structures including: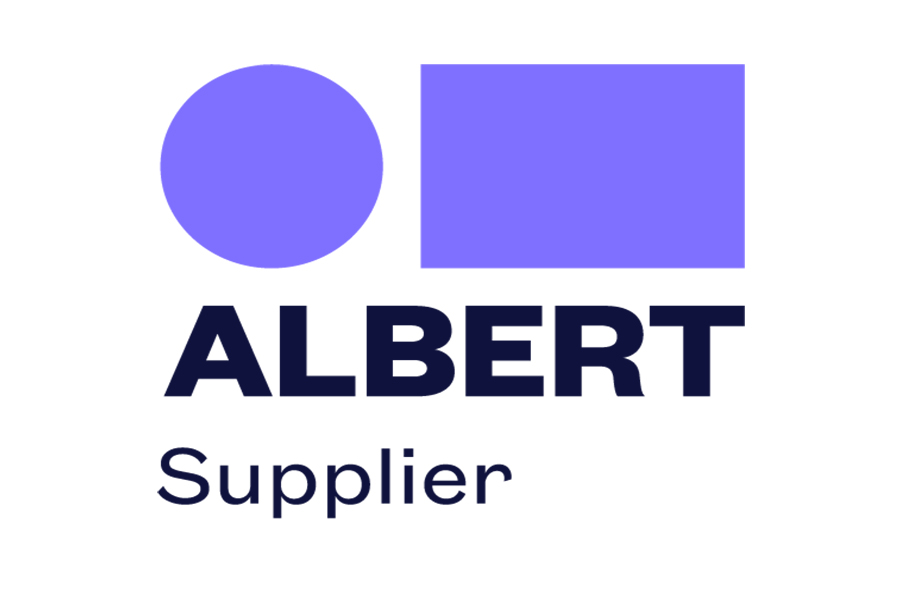 A Sustainable Supplier
Fews are committed to environmental sustainability and it forms part of our long-term planning. Wherever possible we look for ways to adopt green working practices, including recycling goods consumed in the process of running the business.
We are part of the ALBERT scheme as a supplier, making every effort to provide a sustainable service to every production.
From the structures we build to office paper to print cartridges, we make every attempt to operate efficiently, minimise waste and ensure used products re-enter the process to be converted in secondary goods.
Fews look for certification to back up our claims. We have ISO14001 accreditation and a published environmental policy to guide our processes.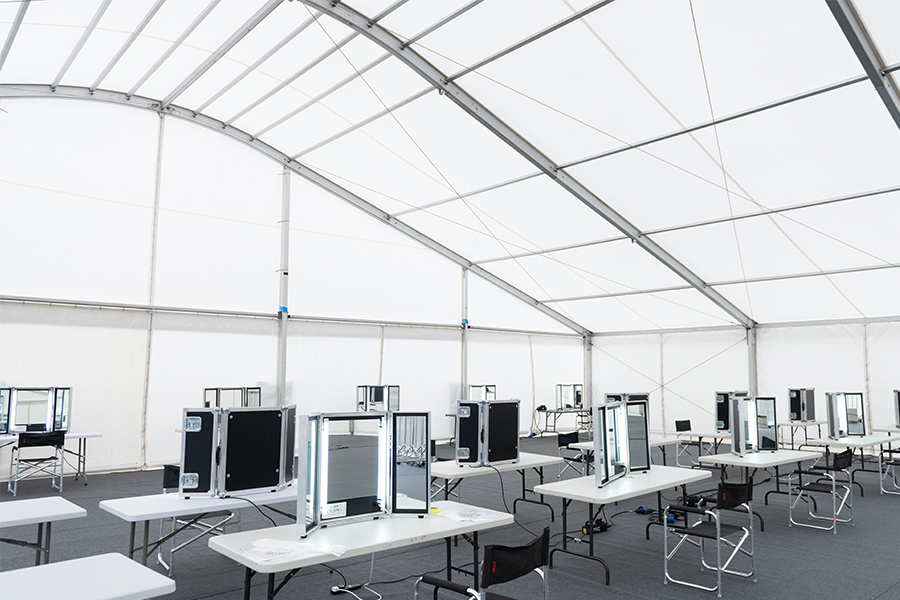 Location Support
Social distancing has changed the requirements for location support in the TV and movie filming business. There is now more focus on providing suitable spaces for canteens, dressing rooms, storage and rest areas.
Marquees and temporary buildings are ideal as movie and television location support structures where indoor space is required. Offering flexibility to the production, our structures are durable, weather resistant, and suitable to be on location for five years or more.
They can be used for many purposes, and it is possible to apply full temperature control through heating and air conditioning units, plus condensation can be all but eliminated by the use of thermo roofing. We have a large number of structure types and sizes so a full production village is easily achievable including power, lighting, staging, seating, catering and toilets/showers.
All of our structures can be tailored specifically to suit your needs, with the addition of solid walls, sliding or roller shutter doors, or lockable doors with emergency exit handles. More options are available here
So, if you're a location manager looking for flexible and reliable marquee company to help create more space for your projects, please get in touch.
Size range:
3m to 40m metres wide, Unlimited Length
Up to 16 metres internal height
Applications:
– Canteens and Catering Areas
– Location Cover
– Production Offices
– Temporary Workshops
– Dressing Rooms
– Storage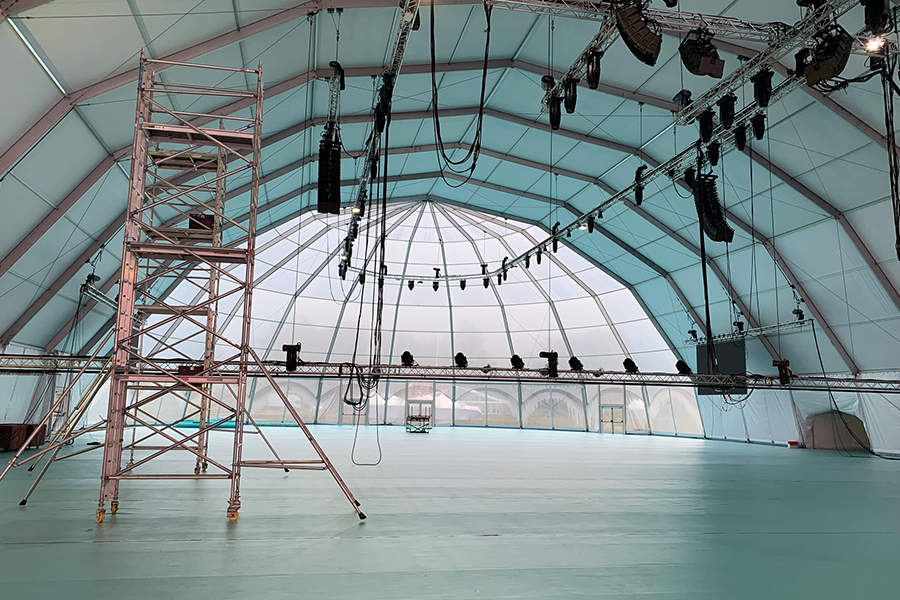 Large Temporary Filming Studios & Location Cover
We can provide very large structures for temporary studios and location cover such as our Igloo which is up to 16m high, up to 40m wide and almost infinite length. With its impressive load bearing capability of 3000kg every 5m arch, the Igloo is able to support any amount of production or scenery.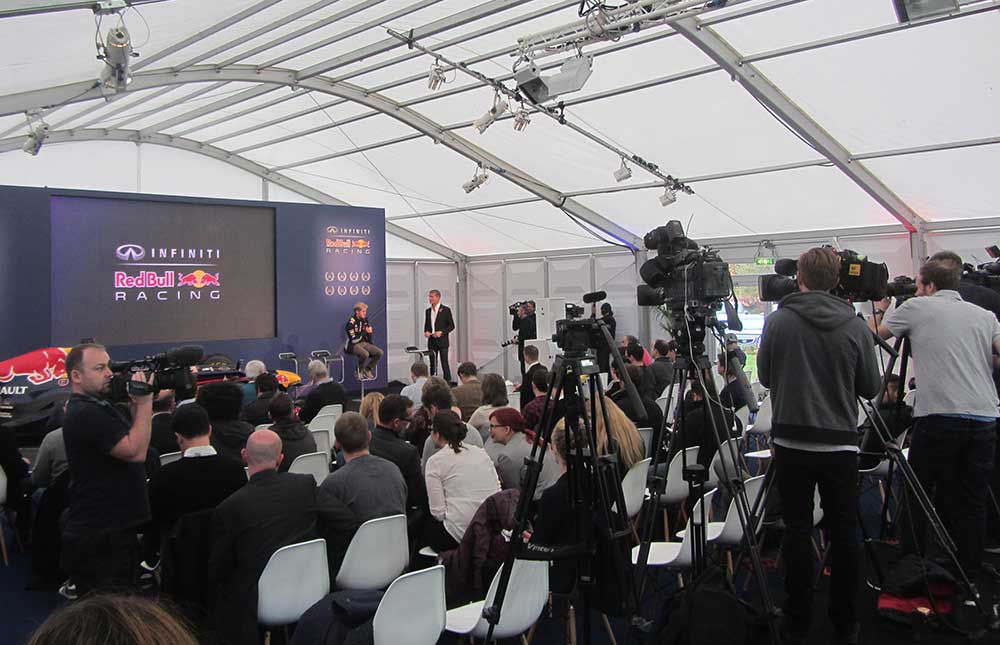 Temporary News Studio
During sporting and cultural events, pop up news or reporting studios are often required for the various TV channels and our temporary structures are the ideal solution. Whether you're covering the Olympics or a royal wedding, our temporary buildings can be made to the size and layout you require for your filming set up as well as being fitted with the flooring, walls and roofing you need to create the perfect look for your studio.
The standard of our service is amongst the highest in the industry and we will do everything necessary to ensure the smooth running of your event. Our project managers will be on hand to make sure that you're supported all the way through.
Fast, efficient, personal service
We offer a very competitive service and will strive to find the perfect solution for your business with our proactive and personal approach. Each customer request is led from enquiry to build by one of our expertly trained project managers ensuring continuity and a seamless process. Once a project is commissioned, we allocate a single point of contact and responsibility.
Call us and one of our project managers will provide a FREE quote. When a site visit is required, then we are also happy to do this free of charge. If your requirement is very urgent, we are able to install some structures within a week.  Check with us and we'll advise accordingly.
High Quality
Constructed from anodised aluminium and other high quality materials, our temporary structures are resistant to wind, snow and rain, and are designed to last many years in such conditions. We use specialist enhanced PVC, insulated sandwich slabs, aluminium profiles and fire galvanised steel connection and assembly components to ensure we provide safe, durable, resistant structures.
Years of industry experience
Fews Industrial has over 20 years of experience in the temporary structure business, and provides the highest quality products and exceptional service.
Headed up by Ian Few, Managing Director, the permanent team of office staff and site crew all enjoy in-depth knowledge and hands-on experience of the business.